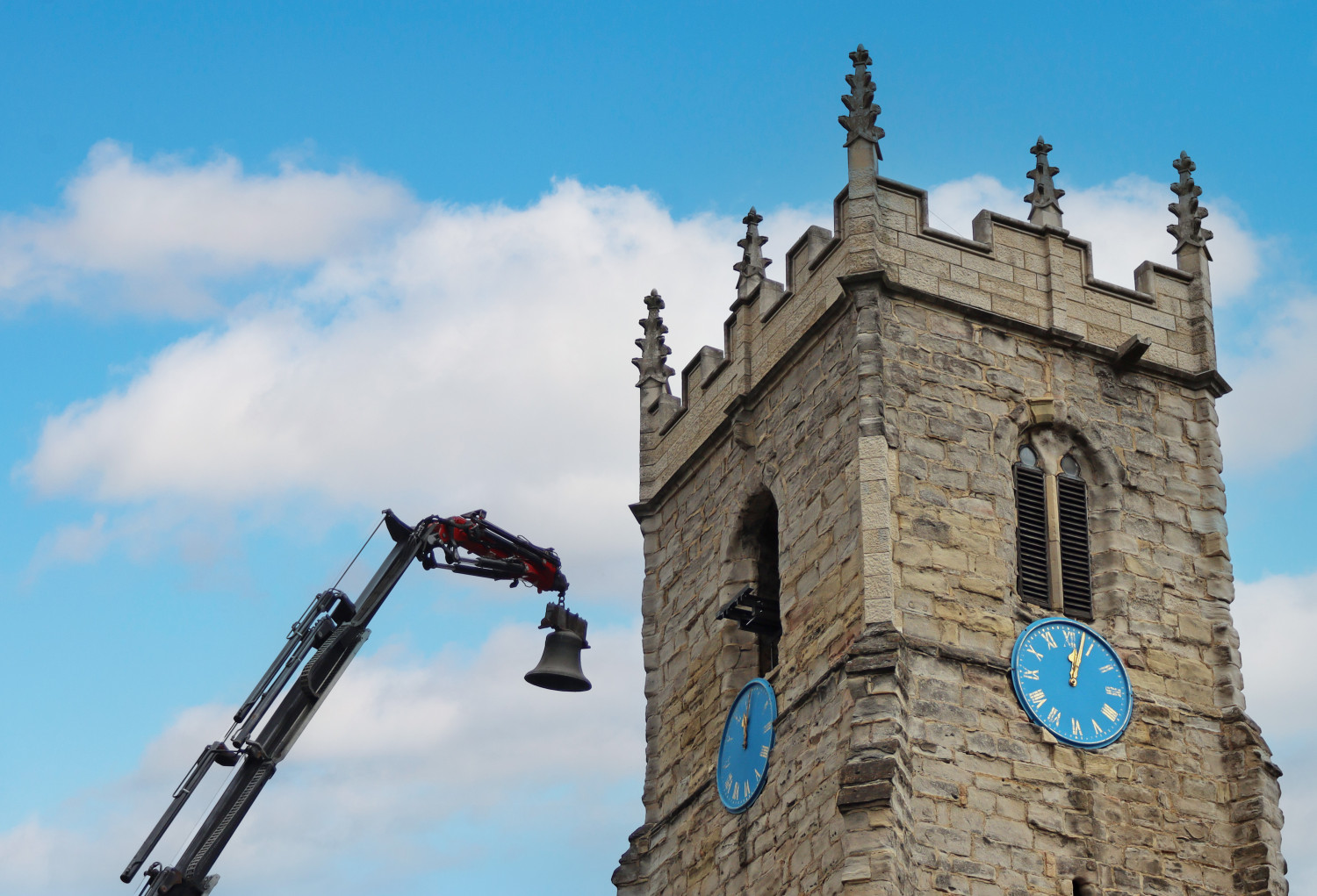 Eight church bells that have been ringing out-of-tune for 115 years, have been removed in spectacular fashion from All Saints Church, Stranton, to restore them to their former glory.
On the morning of Thursday 14 July, each bell was individually lowered by crane from the 60-foot high belfry tower of All Saints Church, Stranton in a precise and carefully-controlled operation. Curious locals gathered at the 12th century church to witness the 'once-in-a-lifetime' event and pupils from a local school also attended.
The peal of bells has been out of tune since 1907 when three existing bells – one of which dates from 1599 - were retuned and five more added.
Andrew Frost, project manager, said: "The bells were tuned 115 years ago using old tuning methods and the results were unfortunately very poor.
"In recent years the bells have become increasingly difficult to ring, and surveys have shown they will soon become unringable if they are not refurbished and retuned."
It is common practice to remove church bells by lowering them through a trap door in the tower, but one was never installed in All Saints Church. Instead, Andrew and his team improvised. They employed the services of a stonemason to remove the west facing window of the belfry which allowed a truck-mounted crane to meticulously lift and lower each bell out of the tower and onto a trailer.
The bells were then transported to John Taylor & Co, a bell foundry in Loughborough where they will be refurbished and retuned.
Andrew added: "Bells have hung in the tower for more than 400 years and are part of the very fabric of the church. They have rung out every week, marking significant milestones, life events and occasions for the people of Hartlepool over the centuries.
"We are very much looking forward to seeing them restored to their former glory and hearing them ring – in tune!
"They will remain in place, untouched, for a further 100 years, or more, and will continue to be heard by the people of the town and by their children's children."
The bells are expected to be reinstated in October and will once again be rung by a large community of ringers from Hartlepool, who range in age from ten to eighty.
Watch the drone footage of the event in the video below (Credit: Peter Greig - Chameleon 360)
More photos: