The new Head Verger at Durham Cathedral has spoken of her pride after following in her father's footsteps.
Rebekah Best has taken on the role vacated by her dad Jeffrey Hewitt, who retired earlier this year after 26 years of dedicated service.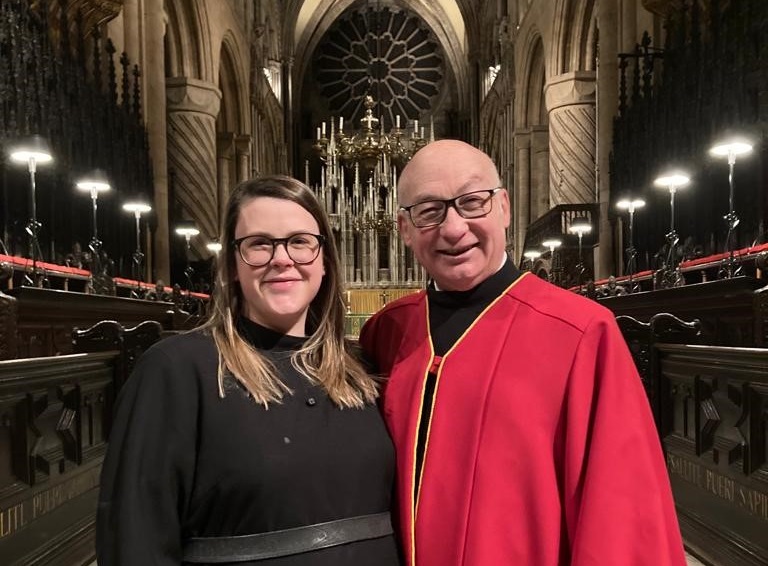 Image: Rebekah Best pictured with her father Jeffrey Hewitt on his last day as Head Verger.
And in doing so, Rebekah, who has herself been part of the Cathedral's five-strong verger team for 11 years, has become the first female Head Verger at Durham.
"I am immensely proud to be Head Verger at Durham Cathedral," said Rebekah, who was appointed in the summer and has recently returned from maternity leave, following the birth of her seven-month-old son Ethan.
"I have a long association with the Cathedral and it is an incredible place to work. In terms of continuing my father's legacy, it's a privilege and I've no doubt that God had a hand in this."
Born in Derby, where Jeffrey was based at the city's cathedral before moving back to his native Durham in 1997, Rebekah previously served as a relief verger at Durham as a teenager, prior to moving to the Midlands in 2007 to work for the charity Youth for Christ in Burton-on-Trent.
There, she met her future husband Ashley, before Rebekah's work with Youth for Christ brought her back to the North East, as she spent a year working with young offenders at Low Newton and Castington.
While this work was eye-opening and rewarding, Rebekah said she was delighted when an opportunity came along to join the Cathedral's team of vergers in 2012.
"I've had a great mentor," she added. "My father was very dedicated and passed on a lot of his extensive knowledge. We have an excellent team as vergers and within the Cathedral as a whole."
Durham is a busy cathedral with three services per day plus more for special occasions. It welcomes tourists and also hosts concerts, exhibitions and other events. Rebekah and her team play a huge role, working with event organisers and ensuring everything is in place from seating and sound systems, to stage design and stage building.
As well as events, the vergers also participate in and set up for all services.
Singer Russell Watson performed at Durham in early November, while in December, it will host a democracy event with broadcast journalist Nick Robinson and politician Ed Balls.
Rebekah, who served as her father's deputy during his final year, added: "I love working at the Cathedral and we're looking forward to the Christmas services and concerts, which are always very special."