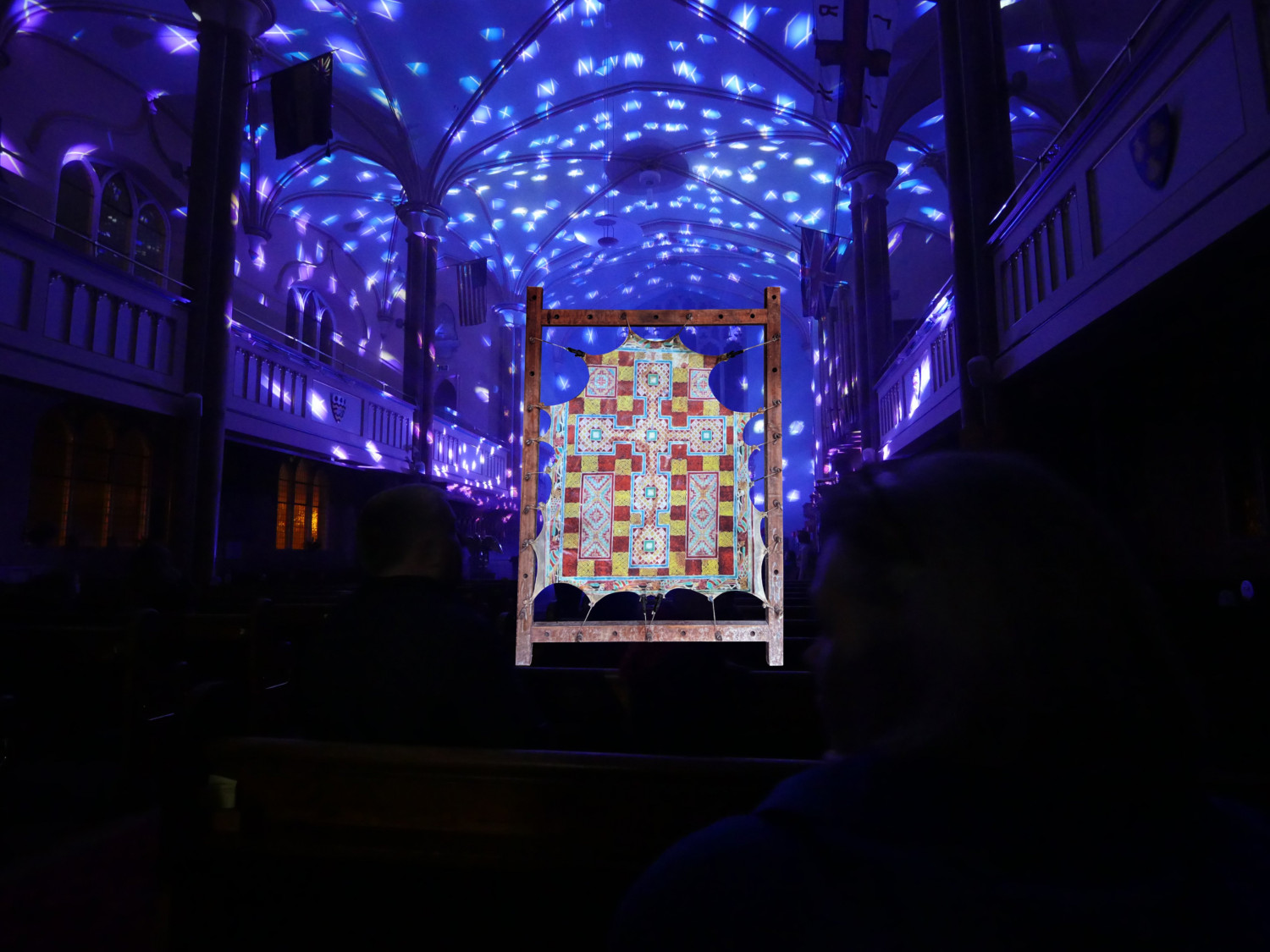 Durham University will be bringing history to life and lighting up churches in our diocese with a new exhibition.
Inspired by the return of the Lindisfarne Gospels to the North East this autumn, Durham University has collaborated with award-winning light art company The Projection Studio to create CODEX, an inspiring visual and sound installation.
Venues include St Paul's Church, Jarrow which will be welcoming children from local schools, St Mary & St Cuthbert's Church, Chester-le-Street, St Peter's Church, Wearmouth and the Parish Church of St Mary the Virgin on Holy Island.
Projected onto calfskin, which was used to make the vellum pages of the Lindisfarne Gospels, CODEX brings modern art media and traditional materials together.
Professor Giles Gasper from Durham University's History Department said: "This is a fantastic project and one that we're delighted to have been involved in.
"We'll also be talking with the public at the different venues showing just how inspiring the Lindisfarne Gospels are.
"We will bring insights from a wide range of our experts in creativity, culture, and heritage. These include cutting edge analysis of the colours with modern science, the tradition of early medieval Gospel books stretching from Northumbria to Egypt, and the culture, including the food created when the Lindisfarne Gospels were produced.
"The projection tour takes us across the North East bringing modern reflections on this wonderful book, in modern settings, and to contemporary communities. It's a real privilege to have been involved and we hope it delights and inspires in equal measure."
CODEX, which is open and free to all, will tour churches in the North East with a connection to the history of the Lindisfarne Gospels, and other manuscripts, from Thursday 22 September until 3 October.
Visitors will have the opportunity to immerse themselves in the light and sound installation and also hear from Durham University academics, who will share their varied and unique perspectives on the relationship of Northumbrians with the world around them during the Lindisfarne Gospels period.
During the period between 600 and 800AD, the Anglo-Saxon kingdom of Northumbria was a creative powerhouse overflowing with a cultural fusion of Insular, Germanic, and Mediterranean art. With a thriving network of skilled people working in smithing and metalwork, chemistry, farming, and agriculture, as well as travelling across continents, they produced and obtained animal skins, pigments, gems and metals, to make exquisite bound books housing religious and practical works.
Revd Lesley Jones, Rector of the Parish of Jarrow and Simonside said: "It's wonderful for us to be able to host CODEX at St Paul's Church in Jarrow, and to hear from experts on the twin monastery of Jarrow and Wearmouth and the Venerable Bede, who lived and worked here. I hope people take this opportunity to enjoy this space and see the artwork in situ - I can assure them a warm welcome awaits."
To learn more about the history of the Lindisfarne Gospels, please click here.
A full list of venues, dates and times can be found here.
CODEX is part of Lindisfarne Gospels 2022 - a programme of events inspired by the display of the Lindisfarne Gospels in the North East in autumn 2022. On loan from the British Library, the spectacular manuscript will take centre stage in an exhibition at the Laing Art Gallery, Newcastle upon Tyne from 17 September – 3 December 2022.