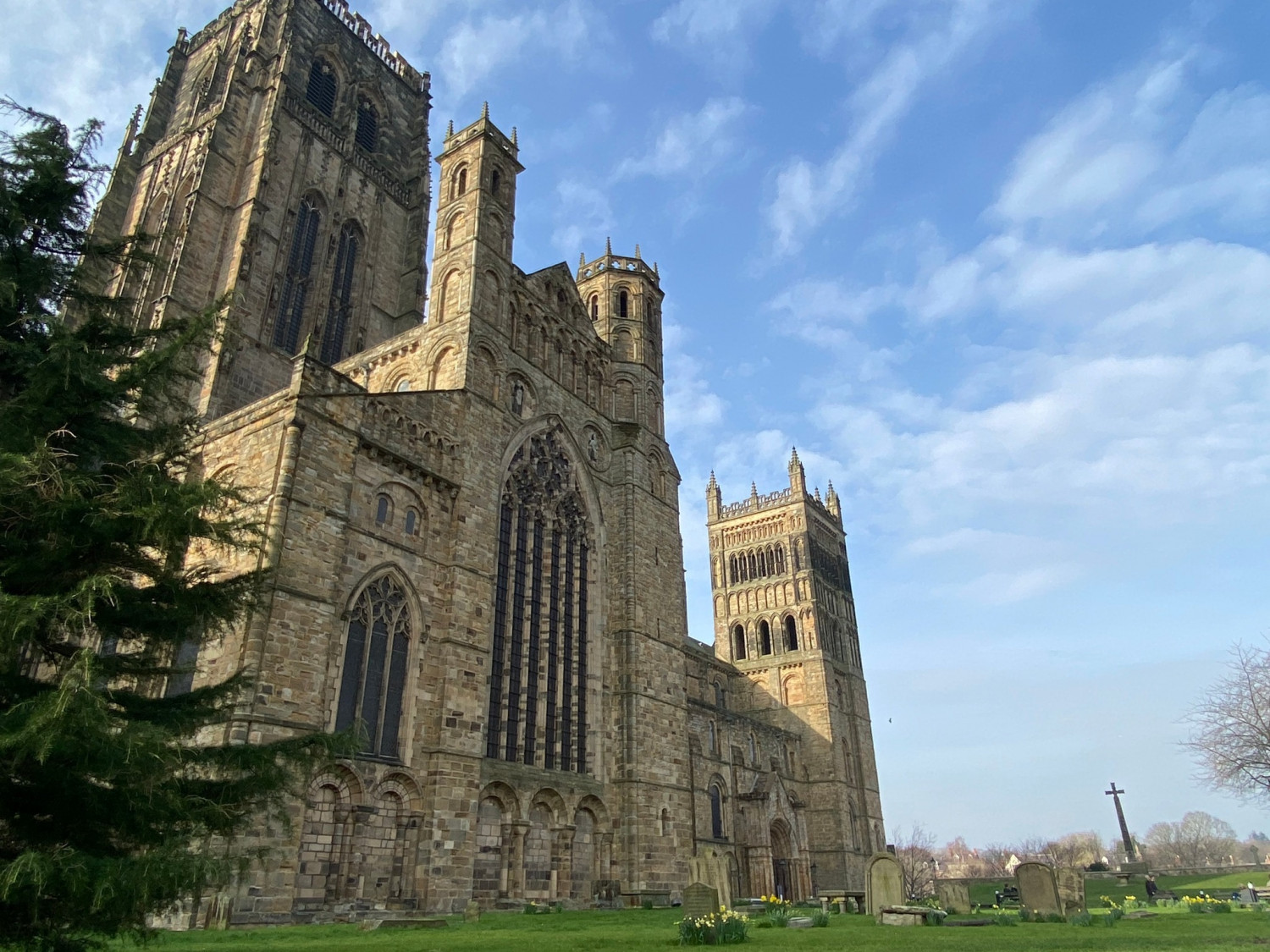 Bishop Paul paid tribute to Her Majesty The Queen at a Service of Reflection at Durham Cathedral held this weekend. Below is his sermon:
COMMEMORATION OF HER MAJESTY QUEEN ELIZABETH II
Durham Cathedral Saturday 17th September 2022
INTRODUCTION
We see tears and celebration,
For this life so dignified,
Bearing thanks and hearts of sadness,
To the God of death and life.
As he takes her to his promise,
Of an audience with the King,
We remember all she gave us,
Wreaths of gratitude we bring.
These are the powerful words of a hymn written by Andy Flanagan on the death of Her Majesty and recorded by Katherine Jenkins.
Our remembrance today is filled both with sorrow at our late Queen's death, and immense gratitude for her extraordinary life of service and duty.
We are also mindful of the grief of King Charles and the whole Royal Family. We hold them in our prayers.
In our remembering I want to offer reflections around Head, Hands and Heart.
HEAD
Queen Elizabeth's head is the most viewed in human history. Think of all those coins, notes and stamps on which her head appears. It is probably also the most photographed head; in the public eye for the past 80 years, 70 of them as monarch.
This was the head that gave us that bright, welcoming smile. It was the head that contained the mind which developed enormous wisdom. Prime Ministers and other great world leaders all testify to that wisdom, born from such long experience, range of knowledge and conversation.
This too was the head from which words of comfort and encouragement were spoken.
As sovereign she was too Head of State, Defender of the Faith, Supreme Governor of the Church of England, Head of the Commonwealth, our Armed Forces, and Patron of hundreds of charities.
She was a woman, small of stature, but who in her constancy, service, and duty stood head and shoulders above us all.
Yet alongside this she would herself place a very large 'But'. At her coronation she knelt at the outset recognising publicly that she was not 'Head' at all. She owed her responsibilities to the call of God and had to reign under God. She recognised that the true Head of the Church is Jesus Christ; that her true strength came from the Holy Spirit, symbolised in her anointing; and that true glory had to be given to God the Creator, Sustainer and Redeemer of us all.
The Queen's head stands for so very much and she sought to use the wisdom, wit and winsome smile for the good of all, and the glory of God.
HANDS
The most viewed head was accompanied by the most shaken hands and the wave most seen. People argue over exactly who she was waving at on occasions as it was always 'me'.
Her hands were those that fed her beloved corgis sitting under the dinner table. They stroked her cherished horses and guided her as a skilled horsewoman. With her hands she played with her children, grandchildren and great grandchildren as they grew up. Her hands placed pieces in her jigsaws, and laid the cards in her games of patience.
With her hands she placed honours on her citizens, signed our laws into place and laid the table when she acted as host.
Yet also her hands were the symbol used for individuals pledging their allegiance; I 'kissed hands' on becoming Bishop of Durham. Our Lord Lieutenant had to do the same.
Her hands may have been small but their actions were significant, dedicated to service. As Simon Armitage has put it in his acrostic poem, 'Floral Tribute'
'The country loaded its whole self into your slender hands,
Hands that can rest, now, relieved of a century's weight.'
Here she was an example for us all. Our hands are given to us to serve others. In Jesus' ministry he touched the unclean, and washed the disciples' feet as his was a life of service. His hands were nailed to the Cross and his risen hands still bear the scars.
Her Majesty knew that she was held in these hands. She trusted that her name is written on the palm of God's hands.
She used her hands in service following the example of her Lord. As she said, 'In difficult times we may be tempted to find excuses for self-indulgence and to wash our hands of responsibility. Christmas stands for the opposite … we need to go out and look for opportunities to help those less fortunate than ourselves, even if that service means sacrifice.' (Christmas 1980)
HEART
However Her Late Majesty's Head and Hands we driven by her big heart; a heart of love and the heart of a lion. She was a woman of enormous compassion and great courage. She needed her courageous heart at the start of her reign as she took on the responsibility that when she was born and in her earliest childhood was never on the horizon. She needed great courage to take the risks involved in moving from Empire to the Commonwealth, deftly handling her role as sovereign through it all. She needed courage when her family faced great difficulties; something she faced right through to her final years. Her fortitude when her beloved lifelong partner, Prince Philip, died, seen in her solitary state at his funeral, setting her example for the nation in the midst of the Covid pandemic. She knew her duty as sovereign and with immense courage, and no doubt deep personal cost, she kept to her duty.
Her heart was filled with love. Her love for her husband, her children, grandchildren and great grandchildren was very deep. She loved the nation and all its people. On her visits she displayed an interest in who people were, more than what they did. She ensured that letters were answered – and so often with a notable personal touch. She loved the nations and peoples of the Commonwealth. It was this love for people that led her to support people of all faiths. It was what led her to encourage tolerance and kindness. As she said,
'I speak of a tolerance that is not indifference, but is rather a willingness to recognise the possibility of right in others; of a comradeship that is not just a sentimental journey of good days past, but the certainty that the tried and staunch friends of yesterday are still in truth the same people today; of a love that can rise above anger and is ready to forgive…
Yet her deepest love was for God, whom she knew had made her, called her, loved her and who had died and rose again for her. Her heart for God gave her a heart for people.
CONCLUSION
Queen Elizabeth II will be held in great honour for years to come. The second Elizabethan Age will take its place in history. We would all do well to honour her memory by seeking like her to use our Head, Hands and Heart in the service of others; with a commitment to duty and constancy. Yet to understand her best, and to honour her most deeply, we will follow her example of faith and live our lives humbly before God, in Jesus Christ her Lord and ours.
Let us pray
When our days are at their dimming,
And our work on earth is done,
May we hear as does our sovereign,
'Faithful servant, welcome home.'
May we rise with Christ to witness,
A new heav'n and earth displayed,
Ours a robe that will not tarnish,
Hers a crown that will not fade.