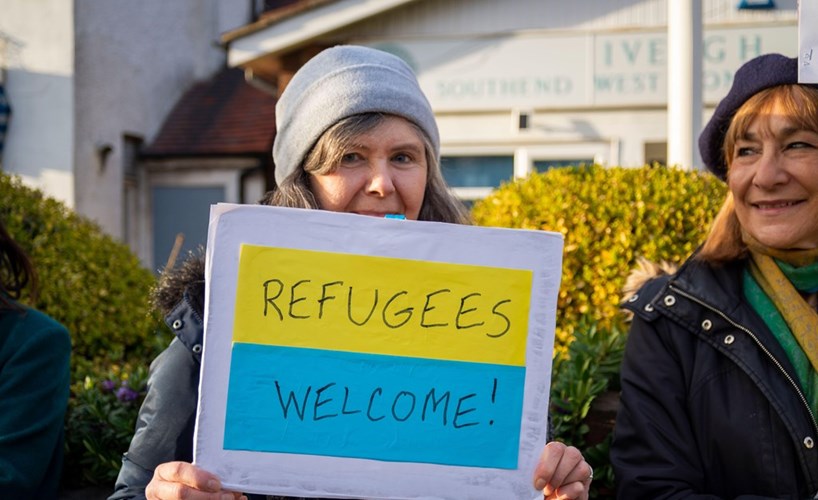 By Tom Deakin and Revd. Canon Eileen Harrop
Churches throughout the Diocese of Durham and across the country have been fundraising and praying for the people of Ukraine following the February invasion by Russia, with many millions of Ukrainians needing to flee the country and begin a new life elsewhere.
The Archbishops of York and Canterbury have both endorsed the visa sponsorship scheme for refugees and as a community we were pleased to welcome the Ukrainian families arriving via that scheme at a Welcome Party held at The Vicarage on Friday 5th August.
The young families were grateful to see the community coming together to celebrate them having a new home to settle, and many parishioners were keen to offer continued support throughout the coming months to both the refugees and Host Families.
Those refugee children attending secondary school were already demonstrating excellent English and enjoyed trying typical English party food whilst meeting local families and young adults.
One of our Ukrainian guests – Oksana – had her birthday the day of the event and attendees provided a rousing rendition of 'Happy Birthday' alongside a cake and candles to make the day more special. Hosts Jill, Arwel and Alison said afterwards "'Thank you so much for a marvellous welcome" with fellow Host family Sue and Ron Gowling adding "'Everyone had a good time, thank you for making our Ukrainian family so welcome'".
Peter Dransfield made a particularly personal touch for our guests by thoughtfully adding Ukrainian folk music for the evening and provided the sound system, Sheila Jones brought a broad selection of outdoor games enjoyed by those of all ages, the Holiday Club team brought cakes, host families added to the selection of food.
Two of the Ukrainian children even managed to make a quiche to bring!
Vicar Eileen, Brian and Tom erected the Church's gazebo, set up tables and prepared the tea and refreshments including herbs cut from Gainford's Community Herb Garden.
Durham County Council have posted information on how families with extra space can become hosts on their website: Support for Ukraine – Durham County Council and if you wish to help support our Host families and Ukrainian refugees in any way please contact the Church at info@gainfordwinston.church