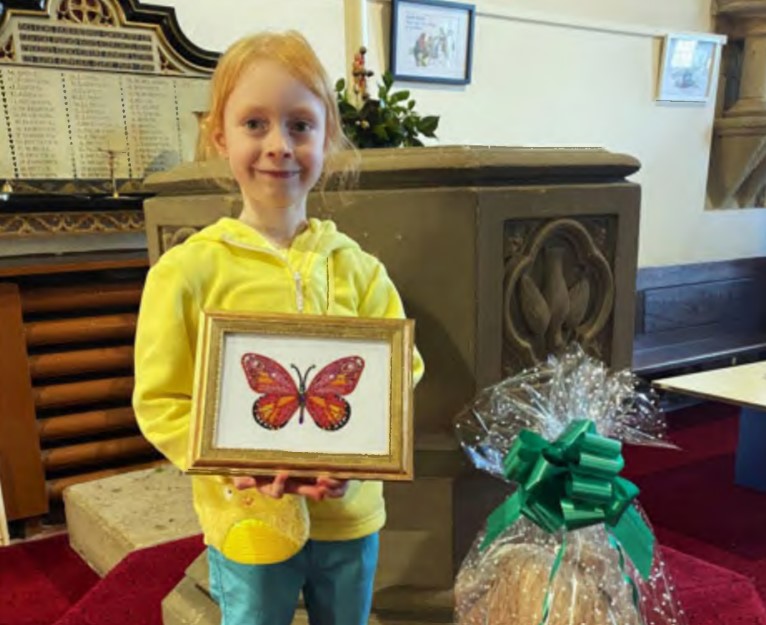 Young visitor, Amber, was very pleased with her prizes from the name-the-bear competition and silent auction
On Saturday 19 March 2022, over 60 people gathered at St Paul's Church, Ryhope, to raise money for children in Ukraine.
Like many of his parishioners and neighbours in Ryhope, the Revd David Chadwick of St Paul's Church has been following the conflict in Ukraine. He has also recognised local people's feelings of helplessness at the growing humanitarian crisis.
In his sermons, Revd David has been outspoken about President Putin's aggression. He was particularly angered and saddened by the plight of Ukrainian children who have been seriously injured, forced from their homes and separated from their families and friends.
By speaking with local residents, he knew he was not alone. Revd David, who is also Chair of Governors at St Paul's CE Primary School in the village, originally asked the children to help show support for the people caught up in the battles.
S.A.L.T, an art space on Ryhope Street South, volunteered to create a child-friendly project called Hearts for Ukraine, using heart-shaped signs which the kids could colour, cut and laminate. These gave adorned the churchyard and gates in a show of solidarity.
However, Revd Chadwick wanted to do more. He decided to open the doors of the church for a fundraiser for children in Ukraine. Within a short space of time, people had responded with a generous selection of donations for a raffle, a name-the-bear competition and a silent auction.
They also made cakes and sausage rolls to sell and keep visitors happy.
University of Sunderland graduate, Karen Kaveney, heard about the event and donated an original artwork called 'Tree for Ukraine, 2022'. This raised £100 for the cause.
On the day, David admitted to a few nerves about who would turn up. However, he need not have worried. Over 60 people of all ages from the local area came along to show support.
Speaking after the fundraiser, David said, "We have raised at least £1000. It's been a good day."