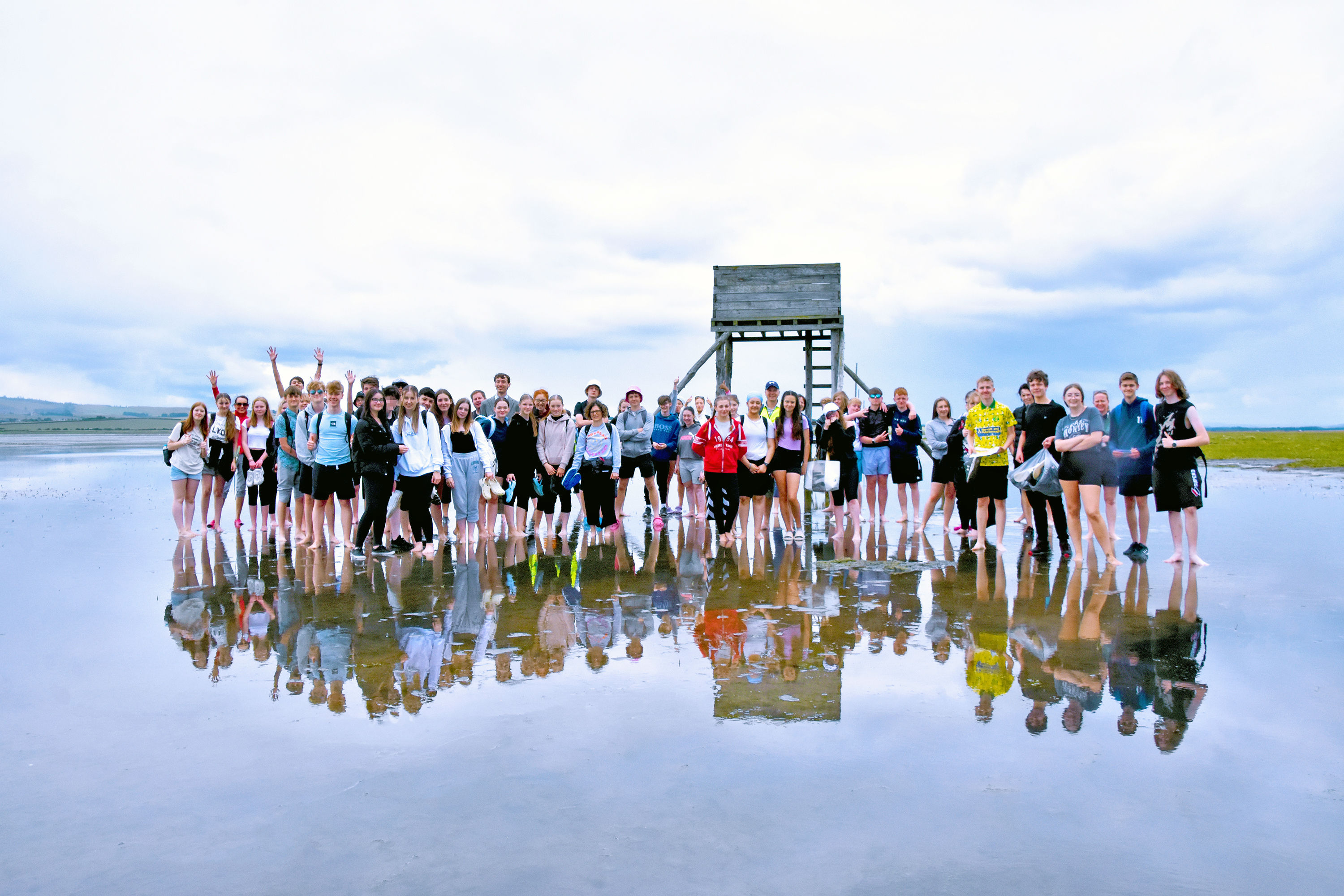 At the end of last term, 60 pupils from four of the Church of England secondary schools in the Diocese took part in a Pilgrimage across the sands on the Pilgrim Way to Holy Island.
Those taking part were from Ian Ramsey CE Academy, Venerable Bede CE Academy, Whitburn CE Academy and St Aidan's CE Academy, Darlington. Many of these pupils had already been involved in leading prayer spaces for over 2500 Year 6 pupils at the Leavers' Services in the Cathedral the previous month.
Most chose to walk barefoot through the sand, mud and warm water, chatting in small groups or just enjoying the peace, space and sounds around us. There were prayers said at different parts of the route, and conversations deep or not! At the end, after some time in the village, we gathered at St Mary's Church, welcomed by Revd Sarah Hills. Pupils had prepared short presentations and from the front of church spoke about what they had learnt and what the day had meant to them. For all the pupils it was a day different from anything they had experienced before.
David Johnson, Head of RE at Ven Bede, wrote afterwards, "It will be a day that we all remember, and I think it will have echoes into eternity."
Lindsay Henderson, Head of RE at St Aidan's wrote, "We all had a wonderful experience. So much so that I really want to get the ball rolling with bringing more pupils to experience this. Our pupils really enjoyed this and were talking about connecting to nature and being at peace whilst walking across the causeway."
Plans are already being made to do a similar pilgrimage next summer.
Thank you Father for this ancient place of prayer: for the lives that have been touched here, and commitment stirred into life here. As we tread in the ancient footsteps of our brothers and sisters in the faith, bless us and all who come here and speak to us with the whisper of your love, for you are a God of hope and faithfulness, now and forever. Amen
Written by Andy Harris, Diocesan Leader of Youth Mission and Ministry