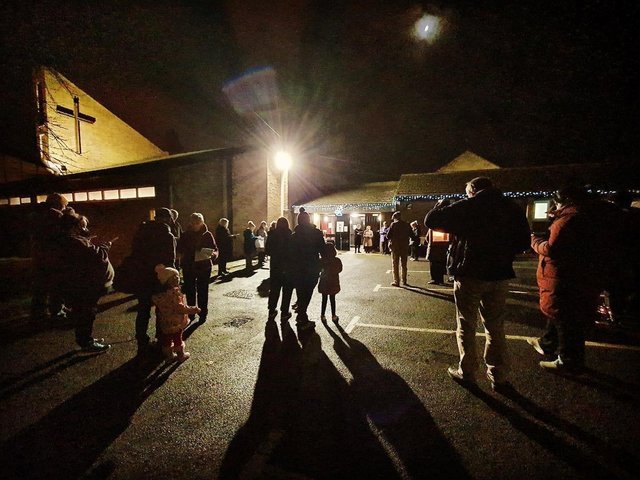 Photo by Serena Lim
On Sunday night people came together under the stars for a very special outdoor carol service at St Peter's, York Avenue in Jarrow.
People from the community, and members of the St Peter's congregation, gathered in the cark park for the first time since December 2020, when they were forced to sing outdoors due to Covid-19.
It was a very special service, with people gathering to sing old favourites such as 'Little Donkey', 'While Shepherds Watched Their Flocks (By Night)' and 'Silent Night'.
Revd Lesley Jones, rector of the Parish of Jarrow and Simonside, said: "The weather was very kind to us and the relaxed atmosphere was perfect as people joined us of all ages, walking down as families, joining us from an evening stroll, and in even larger numbers than last year.
"It was different to last year. Last year we hadn't been together at all. A lot of people were lost in 2021 and others faced many difficulties. It was really wonderful to not only be together, but outside as well.
"It's a really special service, but it's all by accident really. If it hadn't been for Covid it would never have happened!"
There are a range of other services happening within the Parish of Jarrow and Simonside throughout Advent and Christmas.
On Sunday 19 December there will be an All Age 'Christingle Service' at 4pm in St John the Baptist's Church, Nairn Street.
On Christmas Eve there is a choice of two Crib Services for all the family at 4pm at St Peter's Church and at St Simon's Church, Wenlock Road, Simonside.
Later on there is a choice of three Services with Holy Eucharist; 8pm at St Peter's, 8pm at St John the Baptist's or 11.30pm Midnight Mass at St Paul's Church, Church Bank.
On Christmas Day, a 10am Holy Eucharist service will take place at St Peter's Church.