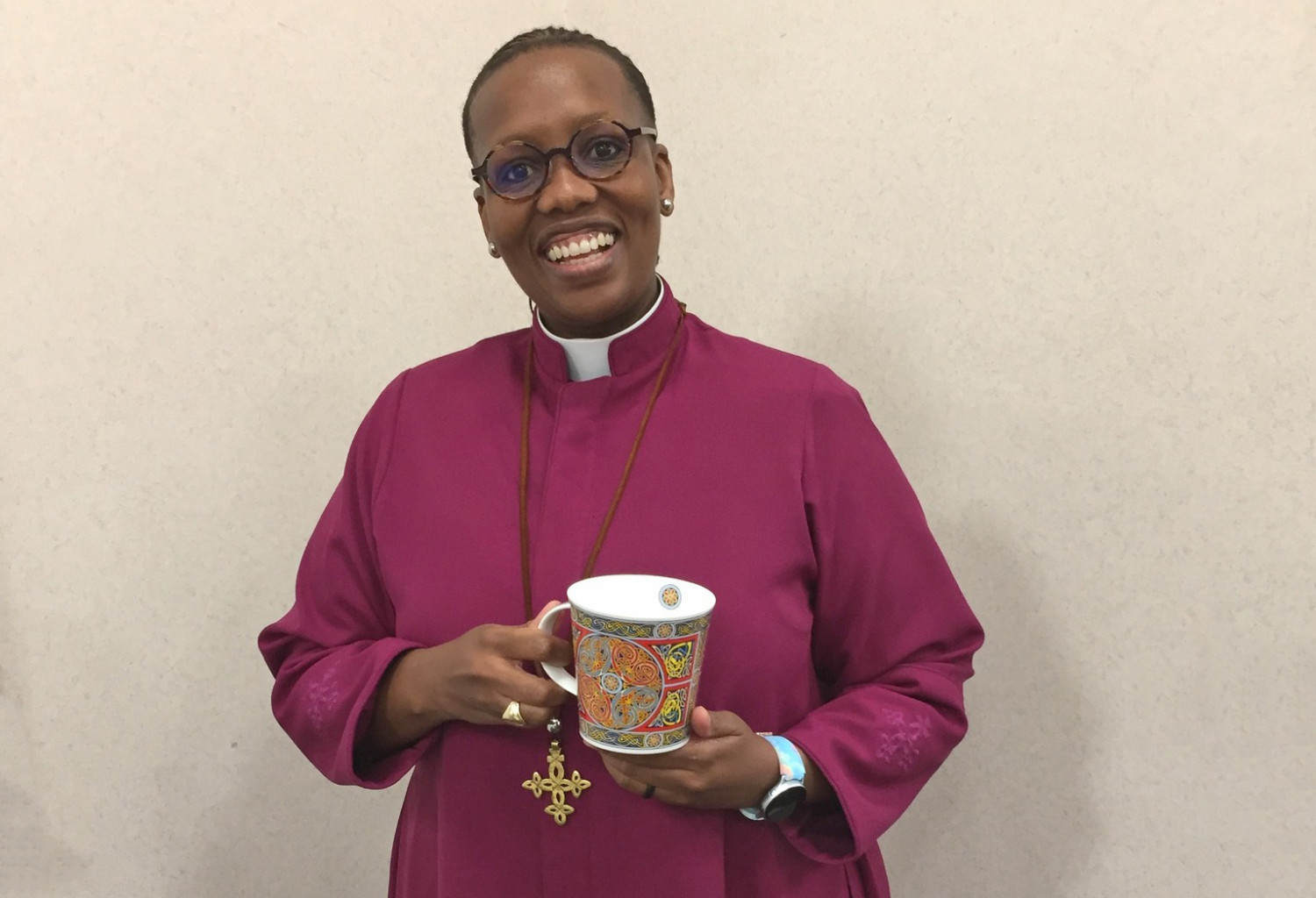 The third woman to become a Bishop in the Anglican Church of Southern Africa has spent a week in the Diocese of Durham, in which she visited schools, colleges and churches.
The Right Revd Dr Vicentia Kgabe, who was the first female Bishop to preach at the opening service of the Lambeth Conference during a memorable address last summer, concluded her visit by preaching at Durham Cathedral.
The visit, which began on 13 February, was a continuation of a long-standing link between Lesotho and Durham.
The latest chapter began with a visit to Ian Ramsey Church of England Academy in Stockton and the Venerable Bede Church of England Academy at Ryhope, Sunderland. Bishop Vicentia also spent time in the Diocese of Newcastle, where she met students and staff at Lindisfarne College of Theology, based at Church House in North Shields.
She also went further afield, and attended the Rock UK Adventure Centre at Newcastleton in the Scottish Borders.
One of the churches the Bishop visited, St Cuthbert's in Darlington, said on social media: "We had the great joy of welcoming Bishop Vicentia Kgabe to St. Cuthbert's, as she preached on the transfiguration of Jesus. She also stayed with us after the service, as we enjoyed cake and prosecco to celebrate the 80th birthday of our fabulous churchwarden, Gill.
"We pray for ever closer links between the Dioceses of Durham and Lesotho, and thank God for the ways in which we can enrich each others' lives through faith and fellowship."
Bishop Vicentia also spent time at Cranmer Hall at St John's College, Durham University, which said on social media: "It was a privilege to welcome the Revd Canon Dr Vicentia Kgabe, Bishop of Lesotho, to Cranmer Hall, St John's College. She met with some of our staff and students, and preached a powerful sermon on Christian Friendship at our College Communion."
The link between Durham Diocese and Lesotho was established around 1986 and became an independent organisation which received capital funding and built facilities such as a conference centre and accommodation. The organisation did much work with child-headed households in Lesotho and developed youngsters with vacations with Christian-led vocations in canoeing, abseiling and other outdoor activities.
Bishop Vicentia, who is a theological educator, served as rector of the College of Transfiguration in Lesotho before being elected as Bishop in 2019.
David Bryan, principal at Lindisfarne College, said: "What a great joy to spend a couple of hours in conversation with Bishop Vicentia. The members of Lindisfarne College and our guests could not help but be deeply impressed by Vicentia's warmth, wisdom, vibrancy and clarity of Christian vision. We learned so much about the way that the Anglican Church in Lesotho is releasing lay people to grow the Churches and is seeking to grow clergy who can foster their service and ministries.
"She spoke passionately about the importance of the Anglican Communion as a global reality and force for good, which we needed to hear. Vicentia stands firmly in the tradition of Desmond Tutu who was formerly a Bishop of Lesotho."
Bishop Vicentia said: "It has been great to be here with you. I have enjoyed a wonderful welcome and it's important that we strengthen our links. We need to steer this massive church into the direction where God wants us to be."