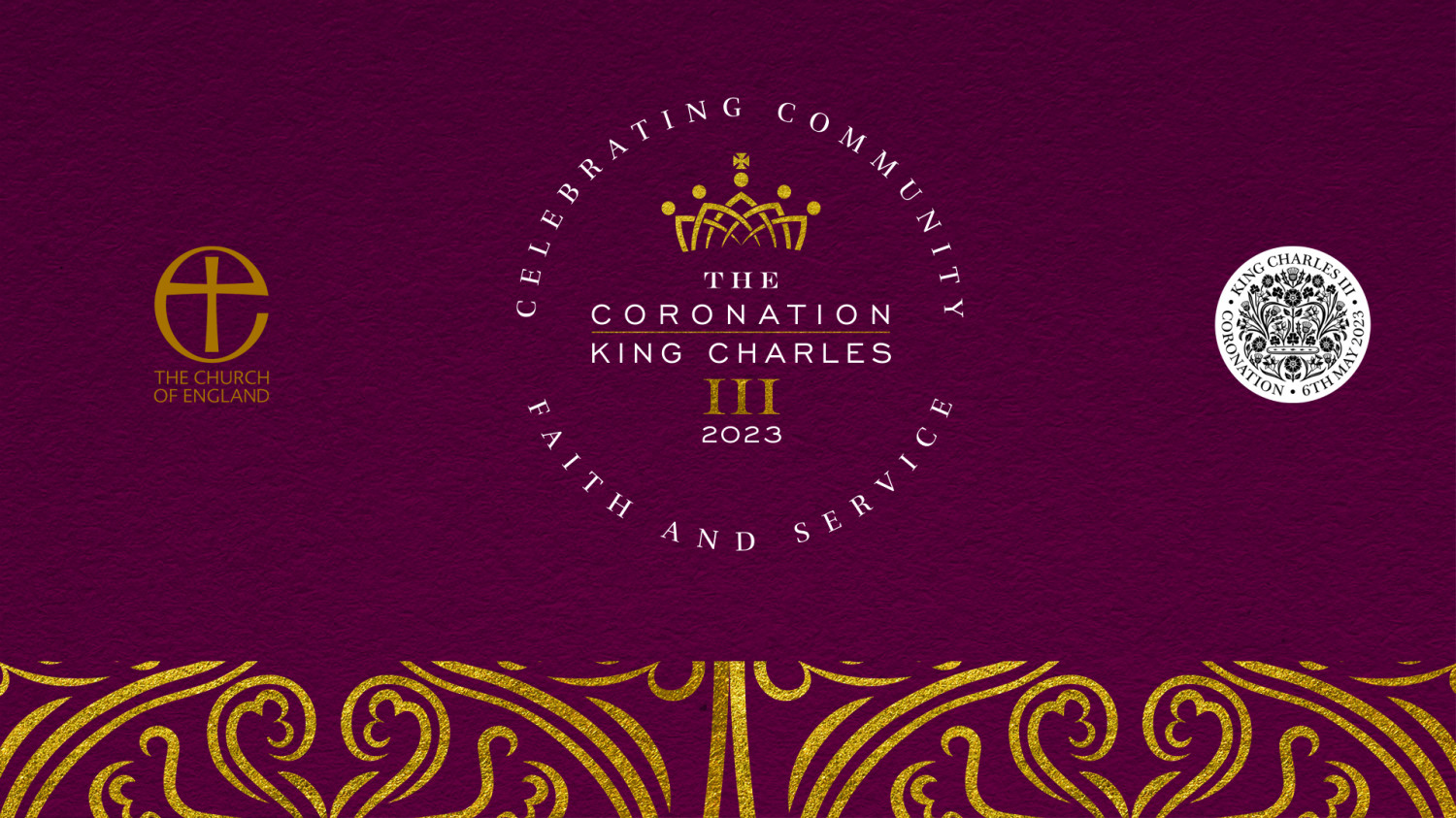 Is your church preparing for the Coronation of King Charles III over the bank holiday weekend of 6-8 May 2023?
The Coronation weekend presents a unique opportunity for the Church to reach out, gather communities together and establish new connections. There are many ways for churches and Christians to be involved in these national celebrations, from church services, to volunteering initiatives and community events.
Resources and Ideas
The Church of England has provided a range of resources to help churches and parishes to mark this historic moment in the life of our nation. These include daily prayers, special prayers, orders of service plus logos and social media graphics which can be found here. They have also produced an information pack for church communities which can be downloaded here.
National Coronation Events
The Coronation of King Charles III will take place at 11am on Saturday 6 May at Westminster Abbey and will be the centrepiece of the weekend. It will be live on BBC One, iPlayer and BBC Radio with a signed version on BBC Two and accessible coverage for people who are blind or partially sighted on the Red Button.
The Coronation Big Lunch is on Sunday 7 May. This nationwide act of celebration and friendship will see neighbours and communities sharing food and fun together. For more information and resources visit www.coronationbiglunch.com.
The Coronation Concert will start at 8pm on Sunday 7 May at Windsor Castle. Featuring a range of performers including Andrea Bocelli, Katy Perry, Lionel Richie and Take That, the concert will be broadcast live on BBC One, BBC iPlayer, BBC Radio 2 and BBC Sounds.
The Big Help Out will take place on Monday 8 May. It will highlight the positive impact volunteering has on communities across the nation by encouraging people to try volunteering for themselves and join the work being undertaken to support their local areas. It could be a great way to highlight the volunteer work that happens through your church every week by inviting new people to get involved. To find out more, visit http://www.thebighelpout.org.uk.
A Church Near You
Help people find out about the services and events you are planning for the Coronation weekend by listing them on the national website AChurchNearYou.com, using the tag 'coronation'. You can list your Coronation services, celebration events or volunteering work. If you need help doing this, find out how at cofe.io/ListCoronationEvents. You may also want to add them to the Coronation Big Lunch and Big Help Out websites.
Guidance for bell ringers
It is suggested that Churches and Bell Ringers may wish to consider ringing, where possible, before and/or after the Coronation service to locally gather and mark the Anointing and Crowning of the King at a practicable time (with the agreement of the Parochial Church Council). Bell Ringers may also wish to consider how they could offer 'taster' sessions and training as part of the Big Help Out. More guidance is available on the CCBR website.
Guidance for flags
It has been confirmed by the British Flag Institute and the Department for Digital, Media, Culture & Sport that to mark the Coronation the Union Standard should be flown at full mast all day on Saturday 6th May.
Screening the Coronation of King Charles III
You are allowed to screen the BBC live coverage of the Coronation on a TV, screen or using a projection system in a community building such as a church or hall. You do not need a TV License to do this as the BBC have confirmed a special one-off TV licence dispensation. Entry must be free and coverage must be shown live not as a recording. More information can be found on the BBC website.
Local Events
There are a number of services and events happening across Durham Diocese to celebrate the Coronation.
Please feel free to browse the events below. If your church is hosting an event, please get in touch with our Communications Team at communications@durham.anglican.org.
'The Big Lunch' at Durham Cathedral | Saturday 6 May & Sunday 7 May
Bring your picnic and blanket to the 'Cloister Garth' which will be decked in bunting.The café will be open for a hot coffee, a cream scone or even a glass of wine for a toast!
Coronation Celebration at Hope Family Church | Saturday 6 May 10am
Free buffet, family crafts and watch the Coronation together on the big screen. Book your place https://bit.ly/hfc-king-charles.
Coronation Ceilidh at St. Nics, Durham | Saturday 6 May 7-9pm
Live band, buffet meal. Bring your dancing shoes and invite your friends. Pick up your free ticket from St Nics welcome desk.
Coronation Songs of Praise at St. Andrew's, Winston | Sunday 7 May 9.30am
Coronation Community Choral Evensong at Sunderland Minster | Sunday 7 May 4.30pm
Coronation Service of Thanksgiving at St. Mary & St. Peter's, Springwell | Sunday 7 May 9.30am
Coronation Buffet at St. Mary & St. Peter's, Springwell | Sunday 7 May 2-5pm
Including quiz, raffle & lots of fun! Adults £5, Children £2.50.
Coronation Service at St. Edmund, Bearpark | Sunday 7 May 10.45am for 11am start
Holy Communion Family Service with activities for children and adults
Special Coronation Service at St. Edwin's, Coniscliffe | Sunday 7 May 10.30am
Followed by celebratory refreshments
Coronation-Themed Service at Holy Trinity, Darlington | Sunday 7 May 9.30am
'The Big Help Out' Volunteer Taster Tours at Durham Cathedral | Monday 8 May
Learn more about volunteering at the Cathedral with a tour from the Volunteers Manager. Book your place https://bit.ly/3VD7BpS
Coronation Evensong at Durham Cathedral | Tuesday 9 May 5.30pm
All are welcome to join a special Evensong in celebration of our new Monarch. HM Lord-Lieutenant of County Durham will be at the service and the Bishop of Durham will give an address.